⚔️ 🦉 Gnosis Chain Weekly · 17 June 2022
Upwards, Onwards!
🙂 TL;DR
Resolve in times of turbulence
Times of great uncertainty can be a stark reminder of why building in Web3 is important. Bear markets are nothing new for Gnosis and, in fact, it's a great time to build! The ability to transact freely without the need of a third-party intermediary, or enabling shared ownership and coordination across jurisdictions by spinning up a Gnosis Safe; our resolve remains the same. In fact, the pace of development around growing the Gnosis Chain ecosystem has only increased over the last few months. Let's jump into this week's update!
📢 RPC URL Update
The prior xDai RPC endpoint http://rpc.xdaichain.com is no longer supported and MUST BE UPDATED.
MetaMask users take note!
There are several network endpoints available for the Gnosis Chain. For a list of active RPCs see https://chainlist.org/?search=gnosis
For detailed instructions click here.
100,084: Gnosis Beacon Chain Validators
100K validators on the GBC is a huge milestone that we are very excited about! 🚀🚀🚀
Utopia Labs Integrates Gnosis Chain
Utopia Labs builds DAO tooling for payroll and expense management, giving DAOs on Gnosis Chain more functionality and flexibility.
Dark Forest Grand Prix
Round 3 of Dark Forest Arena kicks off on June 18th. Don't sleep on possibly the most innovative game happening not only on Gnosis Chain but the entire blockchain gaming industry.
🌲Winding Tree Offers ETH Barcelona Travel Options with Gnosis Chain
🚀Azuro Protocol Officially Launches on Gnosis Chain
QiDao Partners with Gnosis Chain to Launch Curve Pool
🚀QiDao partners w/
@gnosischain
to launch our 1st $MAI incentivized pool on
@CurveFinance
🔥 🚜Start farming now! 1. Open a
mai.finance
vault 2. Deposit $GNO / $WETH & mint $MAI at 0% 3. Supply on
xdai.curve.fi/factory/4/depo…
4. Earn stables + $GNO 💰 5. Step 2🔄 🦉🤝🐒
📺 Screen Time
Checkout and subscribe to the Gnosis Chain Youtube channel for the latest content. This week, host T Well talked with folks from XP Network:
Ever wonder why Gnosis Chain is referred to as the DAO Chain? Here's your answer!
ETHNewYork June 24-26, 2022
We're proud to be supporting
@ETHGlobal
and
#ETHNewYork
—their biggest IRL event this year! Apply now - hacker applications close June 14th! 🏗️
nyc.ethglobal.com
Win $500k+ in prizes!
@gnosischain
will be there, come say hi! 👇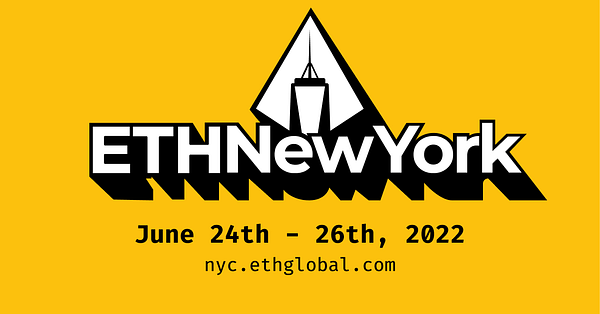 ETHNewYork (Jun 24-26, 2022) - New York's Premier Blockchain hackathon
ETHNewYork (Jun 24-26, 2022) - New York's Premier Blockchain hackathon
nyc.ethglobal.com
Gnosis DAO
Hello Wise Owls🦉 - Did you know that anyone can post a GIP on the Gnosis Forum? Join our Discord and we'll show you how. Here is your weekly governance update!
⚡️Live On Snapshot⚡️
GIP-49: Should GnosisDAO do a BFF Partnership with MakerDAO? [Voting concludes June 21, 2022]
GIP-50: Should TrustSwap deploy smart contract utilities on Gnosis Chain? [Voting concludes June 21, 2022]
GIP-52: Should the former xDai team be involved in future Gnosis Chain development? [Voting concludes June 22, 2022]
⚡️Recently Passed On Snapshot⚡️
GIP-48: Should GnosisDAO implement the Praise reward system around the Gnosis Chain Validator program?
🦉GnosisDAO Forum🦉
GIP-53: Should GnosisDAO sponsor Necromorfo's Cryptorock Tour 2022?
GIP-51: Should GnosisDAO fund the LabDAO project?
🏔 of the Week
A few weekly tidbits highlighting regular goings on.
🏘 DAO of the Week: LexDAO
LexDAO is an industry work group pushing for best practices and incubating smart contracts related to legal matters.
Membership mostly consists of those with a background in law or blockchain technology. LexDAO is building a bridge for the legal and web3 engineering communities by creating a library emphasizing security and legibility.
LexDAO works with multiple DAOs, including KaliDAO, while also receiving grants, like their current Gitcoin campaign, and uses DAOhaus on Gnosis Chain.
🙏 Thank you
We appreciate our community for your support and steadfastness in times of calm and in times of turbulence!
The Gnosis Chain poster competition concludes on June 24th. We invite you to help shape the Gnosis Chain message with your own unique design! Prizes are:
To learn more and participate, visit the #🎨-gnosis-chain-poster-competition channel on the GnosisDAO discord.
For additional info please see the GnosisDAO Mirror post, which also highlights the DAO ecosystem thriving on the GC.
See you on-chain,
Gnosis Chain Team